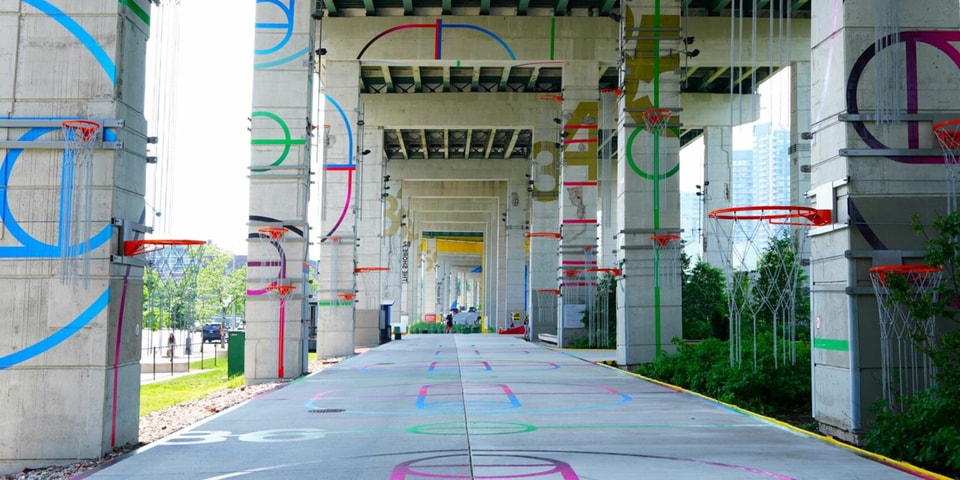 Outdoor exhibitions have become a viable option for the public to indulge in art due to closures caused by the pandemic. Following this trend, Quebec design agency, Cossette has created an interactive display for the city of Toronto's Year of Public Art. Titled "Playing in Public", the exhibition is in partnership with The Bentway and is situated entirely under the towering Gardiner expressway.
At the core of the project is the emphasis for people of all ages to simply get out and play. An exhibition that asks "How does space shape the rules of play, and how can non-traditional spaces teach us to play differently?" Cosette sought to answer these questions through a minimal but vibrant wayfinding system that whimsically directs visitors through the grounds. "The pandemic highlighted the strong relationship between play, physical and mental wellbeing, and public space," said the team at Cossette in an interview.
Additionally, "Playing in Public" will feature a range of installations and online programming by artists that include Assemble, Studio-F Minus, Pierre Poussin and Esmaa Mohamoud, to name a few. Speaking on the latter, her installation Double Dribble is one of the highlights of the event and reimagines the basketball court with an array of different sized rims placed in unusual locations — sparking the visitor to reimaginge the possibilities of the traditional court.
The exhibition first opened early in the summer and will run until September 26.
Playing in Public at The Bentway
250 Fort York Blvd.,
Toronto ON, M5V 3K9