Ukrainian photographer Olexiy Shportun has created an image capture device that combines a digital camera with a system that resembles a large format film camera to produce dreamy, bokeh-rich still-life photos and portraits.
Shportun's full camera system is huge and slow to use by modern standards, but it allows him to achieve images that have a shallow depth of field and dreamy quality that bypasses what would normally not be possible through more conventional capture methods.
He says that his idea was to create a digital version of an analog large format photo, but avoid the color photo process associated with film of this size.
"This method does not require any kind of disposal of photochemistry," he says. "Compared to photographing through a viewfinder, this method gives a higher quality image since it is devoid of problems with grain, vignetting, and rings from the fresnel lens and the design of the entire camera is more compact than cameras created on the principle of shooting through frosted glass."
Shportun says that he came up with this idea while experimenting with combining digital and analog philosophies, as he used to take photos on photo paper on a homemade large format camera.
"For a long time, I could not achieve acceptable image quality when shooting through frosted glass," he says. "I was looking for the best materials for a matte screen, various tracing paper, and films, Fresnel lenses, and at some point, I thought, why not approach this problem from the other side?"
The appearance of his device resembles a large format camera.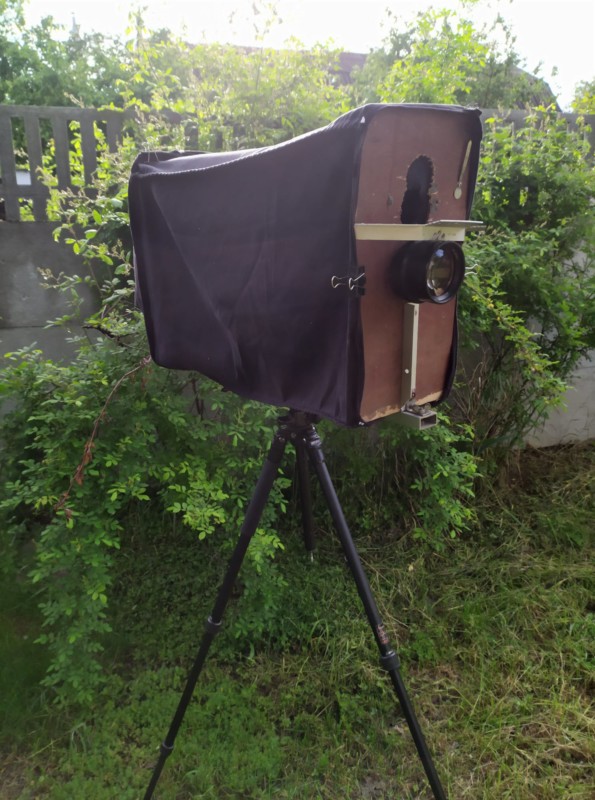 "The difference is that the rear standard is just a movable wall that measures 40×40 centimeters with a white matte screen facing towards the camera," he explains. In the illustration below, he shows the position of the front-facing lens and the digital camera compared to the screen.
"The front standard houses a large format lens which has an image field over 40 centimeters in diameter when focused to infinity. At the same time, the distance from the rear of the lens to the white screen is 30 centimeters. A digital camera with a zoom lens (in my case, 14-42mm) is installed above the lens and directed through a hole in the front standard onto a white screen."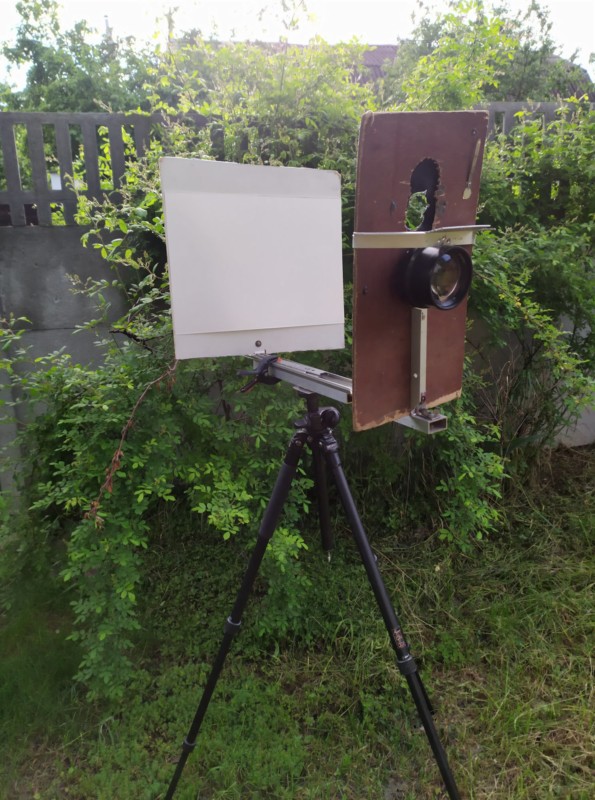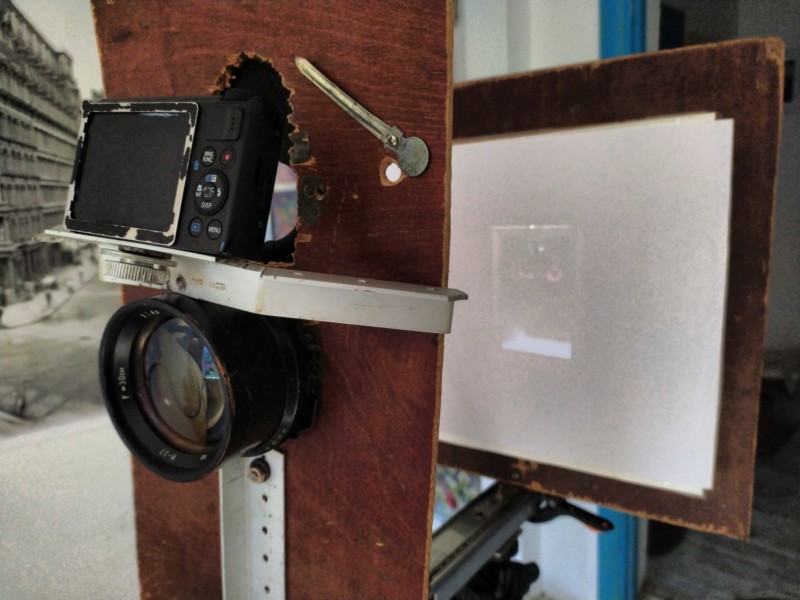 Shportun projects an image from the large format lens and captures it with his digital camera to that is facing inwards towards the screen to create a finished image.
"While shooting, you first need to look through the viewfinder of the digital camera and focus the white screen on the photographed object to frame the image," he explains. "After that, it is necessary to additionally focus the digital camera lens to the white screen."
He says that it is of course possible to directly connect the large-format lens to his digital camera with an adapter, but he argues that would only grant him a "miserable" portion of the image field of the lens and was therefore not a solution he was willing to entertain.
His technique is slow and methodical, but Schportun says it allows him to make digital large format-style images.
"We get color digital photography with an amazing depth of field with only a compact camera with a zoom lens at our disposal," he explains.
To see more of Olexiy Shportun's images, follow him on Instagram or visit his website here.
---
Image credits: Photos by Olexiy Shportun and used with permission.