At its fullest potential, nail art is an exquisite form of self-care and self-expression. There's nothing like blocking off a bit of quality time to transform your fingernails into mini works of art, worthy of their own hanging portrait on your Instagram grid.
Speaking of which, the growth of social media platforms has made nail art *sooo* much more accessible. Not only can you find a multitude of TikTok nail art hacks, you can also gather inspiration on what nail art you'd like to try next: from autumnal matte nails, to eye-catching 3D designs.
At GLAMOUR, we do our best to keep on top of the latest nail art trends, and we're extremely excited about this one. Introducing (drum roll, please) the double cuticle and tip design, in which a pattern is painted at the tip AND the cuticle of your nail, producing an elegant yet dynamic look.
From pastel Frenchies to mixed metals, these are the nail trends we're loving this summer
The clean lines of the tips give the design a professional-looking base, which you can experiment with according to your job, or how you're feeling on a given day. While white tips over a dusty pink base will give off professional manicure (with a twist) vibes, you can also opt for alternative designs, such as these skinny, asymmetric tips by Christina from CLW Nail Artist.
Gradient Side-Frenchies: August's GLAMOUR X TOWNHOUSE design combines two top trends
Ready to step it up a notch? Try coordinating your double cuticle and tips with your outfit for the dreamiest bottomless brunch photoshoot. We love Hollie Barker's hyacinth tips, which perfectly compliment her lilac sleeves.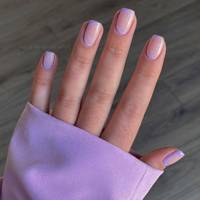 If you couldn't possibly decide on a single colour for your nails, why not choose errrr, all of them? Rainbow nails are cute at the best of times but using this cuticle and tip design gives them a more sophisticated edge. Look to Shúga Studio for inspiration.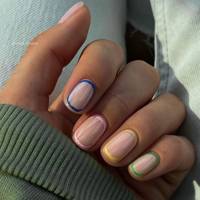 The best nail art designs to watch out for, from neon accents to ombre pastels
Alternatively, you may be obsessed with one colour but fancy exploring it's different tones. This soft peach and fluorescent orange combination from Ellie O'Hara is a perfect example.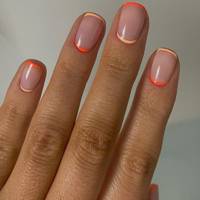 People on TikTok are using the *actual* skin of peaches to create nail art and it looks incredible (no, really)
If you love a more playful look, it's time to incorporate some serious girl-next-door vibes into your cuticle and tip design. White Rabbit Beauty use mismatched pastel colours, such as pink and green, to achieve this fun yet impressive look.
Feeling really artsy? It's time to get dotting. Charlotte Herberts coordinates minty green colours, using a dotting tool to create neat, uniform circles at the tips of her nails. We love that she's accessorised with an emerald ring, too.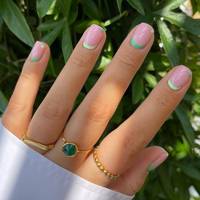 These simple nail art designs are perfect for an easy, at-home manicure
For more from Glamour UK's Lucy Morgan, follow her on Instagram @lucyalexxandra.