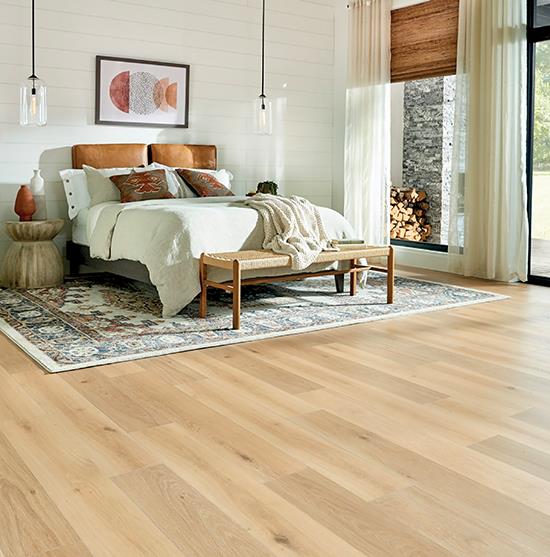 By Terry Marchetta
Every year we experience change, but 2020 brought a whole new dimension to the world in which we live. The home became not just a place to reside but also a place to work, learn and play. With all the outside chaos, in 2021, we see consumers gravitating toward a home that helps them thrive in all areas of their lives-one in which they can feel comfortable and calm, energized and inspired, safe and healthy.
The changes that have been made to consumers' everyday living environment and the fact that they are spending more time at home has created an emotionally charged purchasing environment. Consumers are making buying decisions based on their reaction to what is going on in the world around them.
With that in mind, this year's home interior looks fall into two distinct categories: minimalism and maximalism.
Minimalism is very simple, clean and understated. Many consumers who prefer this style want to create a sense of calmness that connects them with nature and focuses on their spiritual well-being.
Maximalism is bold, bright and eclectic. Often, consumers who prefer this style want to surround themselves with items that bring them joy. Whether it is utilizing heirlooms or vin-tage items from the past or incorporating handmade artisan products from their travels, they are creating an unexpected explosion of pattern, color and texture.
But interestingly, whether the customer is "minimal" or "maxi-mal," we are finding that flooring has taken an unassuming back-seat. Although beautiful, it will be used as a neutral backdrop to allow a homeowner's personal tastes and style to shine through. This year's rooms are all about color, texture and layering.
MINIMALISM: LESS IS MORE
Minimalistic interiors that lean toward Scandinavian or Japa-nese influences are focused on subtle textures, earthy pigments and a sense of comfort. Both cultures take a "less is more" approach and feature unclut-tered spaces and clean lines focused on sustainability and biophilic design. Scandinavian and Japanese design aesthetics share an appreciation for inte-riors that create a harmonizing, stress-free atmosphere focused on calm and spiritual well-being. The results are spaces that are welcoming yet tidy and orderly without feeling cold.
Scandinavian interiors focus on a color palette centering around chalky, matte pastels that move away from the cool grey and white, focusing on earthy, neutral bases. Beige is making a comeback, giving rise to colors like oatmeal, natural and buff. These neutrals create the perfect backdrop for subtle pops of color such as sage green and terracotta, which are increasingly becoming popular.
Most Japanese-inspired rooms start with a dark base that is saturated, creating a complex neutral environment.
Both interior looks will work well with muted earth tones of blues, greens, plums, browns and black.
FLOORING IN MINIMALIST DESIGN
The minimalistic style requires flooring that is naturally un-derstated and has minimal distressing. In wood looks, it is about hardwood in its natural form, centering around species that deliver depth of character without being busy or overwhelming, like white oak, maple, pine and ash.
Surface finishes that are inspired by Japanese effects such as fuming, shou sugi ban and ebonized wood grains seem to be trending. These techniques were developed specifically for the purpose of making building materials waterproof, but the visuals create beautiful, caramelized effects that provides a smoky color variation.
Tile looks also offer the minimalist homeowner some distinc-tive options. Here, the focus is on materials such as concrete, terrazzo and French limestone that have beautiful depth and character, but almost no variation. The visual interest is created through texture, surface finish or large format.
MAXIMALISM: COLOR AND LAYERS
The theme here is "more is more" as this design style focuses on filling up surfaces and spaces with interesting "objets d'art." Trend experts have been touting styles such as "Grand Millennial" or "Cottage Core," which is a casual take on this popular glam-our trend.
The look is all about indulgent color, pattern and texture that ex-emplify the homeowner's person-ality. Often, this is achieved by in-corporating hand-me-downs and inherited pieces alongside second-hand vintage and reclaimed furni-ture and making them look like a curated collection in a modern interior.
We see this trend appealing to Millennials, who are having fun implementing and accessorizing their spaces by combining homey, nostalgic accessories like wallpaper and fine china with textiles featuring florals, ruffles, velvet, fringe and chintz. The color palette centers around rich tones of blues and reds mixed with warmer tones of ochre and rose accented by metallic touches of gold, burnished copper, brushed brass and bronze.
FLOORING IN MAXIMALISM DESIGN
The flooring that complements maximalism is traditional-with a twist. In hardwood, species such as oak, cherry, hickory and walnut are popular but in large-format planks or unique shapes like herringbone and marquetry. In tile looks, we con-tinue to see geometrics and large formats, in both marble and encaustic tile looks.
Hickory is a perennial favorite in the world of hardwood flooring. It is durable, versatile and creates a unique and so-phisticated visual in the home.
A subset of maximalism is the Bohemian style, which is a diverse celebration of globally inspired patterns, taking the home on a journey of global eclecticism highlighting Moroccan, Spanish and African elements. This look cel-ebrates the beauty of craftsman-ship, making natural materials look effortlessly stylish, and is all about layering trinkets and treasures to tell a story of travels.
Look for hand-dyed textiles in rich earthy pigments and hand-thrown pottery. It is all in the detail with this look-think tas-sels and macramé detailing on everything from cushions to wall art. Add color and texture with kilim carpets, African-inspired baskets and intricate Indian block prints.
Bohemian color trends center around earthy, natural pigment-ed tones like ochre and ter-racotta sourced from clays and volcanic rocks, as well as muted vegetable dyes in colors such as blue and red. These rich tones, which add a pungent contrast, are found in every culture's authentic handcrafted style.
Subtly worn hardwood looks are the hallmark of this style. Using reclaimed rustics and exotics-pri-marily acacia and walnut-this is where we will see more mid-dark tones. Design features include fum-ing techniques to add a look of caramelization that gives a rich un-der-glow and a sense of nostalgia.
The journey toward a beautiful home is an individual one, and it is as unique as the consumer herself. Trends offer a direction so that her space can become one that is comfortable and safe, and a place where she and her family are happy to spend most of their time. Even as the world begins to move back toward normal, the home will continue to be the place we return to for solace and a reminder of what is really important.
Copyright 2021 Floor Focus